PURPLE PROZE, ISSUE #7, 4/99
==========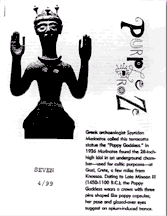 Welcome to PURPLE PROZE, my newsletter/zine. I can't answer your letters or e-mails personally, but please send questions for the HUH?HUH? column. DO NOT ask me to critique your manuscript, find you an agent, or help you get published unless you want to be made into a voodoo doll!!!
Send changes of address and books to be signed (with post-paid SASE) to P.O. Box 750151, New Orleans LA 70175-0151 USA.
Love & Slack,
Poppy Z. Brite
==========
HUH?HUH?
READERS' QUESTIONS
What kind of background do you have as a writer?
A. The background of a lifelong reader, which in my opinion is the only background that matters.
Q. Is there any connection between you and Trent Reznor (e.g. Nothing Records)?
A. Not unless you count the interview where he said the chapter about him in COURTNEY LOVE: THE REAL STORY is "1000% untrue." (Sorry, Trent -- I did ask for an interview, but you turned me down.) If I'm not mistaken, Nothing Records existed well before LOST SOULS was published.
Q. Do you ever fall in love with your characters?
A. Constantly.
Q. I have recently realized I am bisexual. I want my parents to know and understand this part of me, but I'm afraid they will disown me. What should I do?
A. By all means, broach the subject with your parents, perhaps by asking what they'd think if you had a friend who was gay or bi. If their reaction is less than favorable, you can state your own opinions without taking the big leap -- at least not right away. You'll have planted the seed in their minds, and if they love and respect you as they should, they may reconsider their beliefs. Your parents don't want to know about the details of your actual sex life any more than you want to know about theirs, but they need to understand that this isn't just about sex -- it's a part of who you are.
Q. You have had several jobs, some of them very odd. Have any of these DIRECTLY inspired you to write anything?
A. Eddy's strip club scene in DRAWING BLOOD is pretty much from my own experience. To my sorrow, I have never been able to write a story about a mouse caretaker.
==========
BOOK NEWS
A deluxe hardcover edition of THE LAZARUS HEART will be available in February '99 from Gauntlet Press. It includes my new preface, an afterword by John Shirley, and illustrations by J.K. Potter. Gauntlet will also release a tenth anniversary edition of LOST SOULS in 2002. For details or to order: Gauntlet, 309 Powell Rd, Springfield PA 19067 or www.gauntletpress.com
THE SEED OF LOST SOULS, the previously unpublished 1987 novella from which my novel LOST SOULS grew, is now available from Subterranean Press. This limited-edition chapbook also includes an introduction and an essay/book review on vampires by me, a 1992 interview with me, and illustrations by the fabulous Dame Darcy. The 500 signed/ numbered copies are $12, the 52 signed/lettered ones $43. Subterranean Press, P.O. Box 190106, Burton, MI 48519.
My short story collection ARE YOU LOATHSOME TONIGHT? will be published in Britain by Orion in July 1999, under the title SELF- MADE MAN.
Dutch readers, look for a translation of Douglas E. Winters' anthology REVELATIONS (containing the novella "Triads" by me and Christa Faust) titled ANGST EN APOCALYPS.
==========
NEW CREATURES

Short story "Arise" appears in IMAGINATION FULLY DILATED (ed. Alam M. Clark and Elizabeth Engstrom, CD Publications).*
Short story "Monday's Special" appears in Louisinana Literature, Vol. 15, No. 1 (Spring 1998).*
*These stories are also in ARE YOU LOATHSOME TONIGHT?
Essay on my adventures with gender, "Enough Rope," appears in CROSSING THE BORDER (ed. Lisa Tuttle, Indigo Books). For more information, write the Cassell Group, Wellington House, 125 Strand, London WC2R 0BB, England).
Essay "Would You?" appears in NERVE: LITERATE SMUT (ed. Genevieve Field and Rufus Gris-com, Broadway Books).
Short story "Essence of Rose" appears in the webzine Nerve (www.nerve.com/Brite/rose/).
Short story "System Freeze," a tie-in with the upcoming Keanu Reeves/Lawrence Fishburne feature film THE MATRIX, at www.whatisthematrix.com/cmp/popp_z/html
Short story "Nailed" will appear in TAPS AND SIGHS (ed. Peter Crowther, CD Publications, Fall 1999).
==========
The following list was inspired by a discussion of the (in my opinion) loathsome Francesca Lia Block on alt.books.poppy-z-brite.
CHILDREN'S/YOUNG ADULT BOOKS THAT WILL NOT MAKE YOUR LITTLE ONES WANT TO SEDUCE THEIR FRIENDS OF THE OPPOSITE SEXUAL ORIENTATION, GIVE BIRTH, OR RAISE A BABY IN THE WONDERFUL SPARKLY CANDY-COATED WORLD OF LOS ANGELES (but still might teach them something)
HARRIET THE SPY and THE LONG SECRET by Louise Fitzhugh. These books have been banned in school libraries across the U.S. for making adults look ridiculous and encouraging children to talk back, spy, and discuss their sexuality among themselves. Need I say more?
THE HOUSE WITH A CLOCK IN ITS WALLS and anything else written by John Bellairs before he died (the ones by his zombie suck). Besides being scarier than most "adult" horror, these are also extremely funny books.
Almost any of Ray Bradbury's earlier work, esp. SOMETHING WICKED THIS WAY COMES and THE HALLOWEEN TREE. The exquisite language of these stories makes WEETZIE BAT look like a SweeTart melting in the sun.
Anything by Edward Gorey. OK, so his work is not intended for children, but I discovered it at age 8 and look how well-adjusted I am.
THE EGYPT GAME and others by Zilpha Keatley Snyder. I've never read an author who could communicate the gorgeous, menacing mystery of late childhood better than Snyder.
THE PUSHCART WAR by Jean Merrill. A "political" story kids can understand and enjoy -- pushcart vendors against the Big Trucks, armed with pea shooters! As well as a good story, a look at an all-but-forgotten era of New York's Lower East Side.
FREAKY FRIDAY and A BILLION FOR BORIS by Mary Rodgers. FORGET, absolutely IGNORE the 2 stupid movies H'wood made out of FREAKY FRIDAY, and simply read these surreal, subversive, witty books. Then give them to the kid.
THE WESTING GAME, FIGGS & PHANTOMS, and others by Ellen Raskin. These are really fun puzzle mysteries, but they also explore stereotypes (of kids, of parent-kid relationships, of other races, of the handicapped). Kids reading FIGGS & PHANTOMS may even be tempted to follow up with some Joseph Conrad, as his books figure prominently in the plot.
(For older adolescents) SISTER SAFETY PIN by Lorrie Sprecher. Explicit in a very innocent way ("Then her tongue was touching the deepest part of me" and such), this first-person novel by a very young punk lesbian is the sweetest, most uplifting coming-out tale I've ever read.
Enjoy, pervy kids!
==========
MY INFAMOUS NIPPLE
"I heard Poppy accidentally tore her nipple off." -- some guy on the Internet
"Well, it's all a matter of degree, isn't it?" -- mollybloom on alt.books.p-z-b

With 10 indoor cats, we need a lot of litterboxes, so many that we keep them and little else in one of the back bedrooms. In the doorway of this room we've placed a "baby gate" that allows the cats free passage but keeps the dogs out. This gate, sturdily designed to keep tykes from tumbling down staircases, is made of heavy plastic-coated wire in a lattice pattern.
Yesterday was a warm day in New Orleans. So warm that I cleaned the litterbox room wearing only a pair of panties. I bent over slightly to fit the gate back into the doorway, then straightened up -- and went soaring into a world of pain. I had no conscious thoughts at the time, but in retrospect it was rather like having a pair of red-hot pliers close on my left nipple and twist. When my vision cleared, I saw my stainless-steel, formerly horseshoe-shaped nipple ring hanging on the gate, bent almost straight.
It took me a second to be able to look at my nipple. It was completely bifurcated, yawning wide open. I could see the glistening meat inside and the trench where the heavy-gauge ring had been. Gingerly I pinched the two halves back together, and great fat drops of blood welled out of the holes on either side where the ring had protruded. There was surprisingly little pain.
I clamped a wet washcloth over it and staggered upstairs. When Chris came home from the store, I made him look at it (not that I thought he could do anything; I just thought I might as well get some disgust mileage out of it). He wanted me to go to the emergency room, but since I know people who do this sort of thing for fun and don't die, I decided it was unnecessary. Instead, I doused it with hydrogen peroxide, slapped on a big bandage, then tried to numb it with a bag of frozen peas, which was beyond painful. Instead I swallowed a Vicodin ES and didn't feel a damn thing for several hours.
This morning, I expected it to be swollen and sore, but it still doesn't hurt at all. Maybe I destroyed the nerves.
I went to get a tetanus shot, causing all the nurses and techs in my doctor's office to drop everything they were doing for genuinely sick people and come see my tit (and probably laugh about it for days afterward). My doctor offered me the number of a plastic surgeon, but I'm actually hoping that it will heal in two halves and I'll have a permanently bifurcated nipple.
(Postscript: It did not heal in two halves, and I had it repierced at Rings of Desire a few months later. Now there's not even a scar. Also, Brian Hodge says hydrogen peroxide corrodes tissue and I should not have used it.)
==========
HALLELUJAH, SISTER
"So there I am, sitting at the DC booth at Dragon*Con or sign- ing at Dark Delicacies in Burbank -- the actual setting is inconsequential -- and sooner or later, this one or that smiles and ever-so-cheerfully asks The Question: "When will your next novel be finished?" And I never stop to think, hey, blood is a protein stain and it's gonna be really hard to get brains off velvet ... [The next novel] will come. But in a genre that has come to expect the clockwork produce of folks like Dean Koontz, Robin Cook, and Stephen King, well, let's just say I'm not likely to be that kind of novelist."
-- Caitlín R. Kiernan, author of SILK
I couldn't have said it better. Confidential to those who ask The Question: We're glad that you care. Really we are. But we're not novel machines, and sometimes we have to go into what I call Refill Mode. That's where I am now. I'm reading, traveling, writing short stories and articles, and generally getting in trouble. These are my vital ingredients for novel-writing. I'm grateful for your patience and I hope you will keep caring. Just don't ask The Question.
To subscribe to Caitlín's gorgeous Art Nouveau newsletter, SALMAGUNDI, where the above quote first appeared (and which promises to come out much more regularly than PURPLE PROZE), e-mail your snail mail address to Desvernine@aol.com. It is free in the U.S., $4 overseas.